Valle Isarco / Eisacktal, Alto Adige

Your search
Naz - Sciaves / Natz - Schabs: Hotels, B&B, Residence and holiday apartments
Rasa / Raas (Naz - Sciaves / Natz - Schabs)
This climate house combines modern amenities with a South Tyrolean traditional design. The modern and comfortable holiday apartments with extensive views of the mountains around the Eisack Valley provide plenty of room for a relaxing holiday.
offers
06/09 - 27/09/2020

from 441€ for 5 days

10/10 - 01/11/2020

from 468€ per week
Characteristics
Welcome to the Hotel Birkenbrunn! An idyllic place in the heart of Natz, in the middle of the summer and winter paradise of South Tyrol. South Tyrolean hospitality combined with a unique wellness holiday.
The Hotel Sonneck is situated at the intersection of three beautiful valleys, namely the Eisacktal, Pustertal and Wipptal, and is the ideal starting point for day trips in all directions or for a stay of several days in one of the comfortable 20 rooms.
offers
01/06 - 31/10/2020

125€ for 2 days

01/06 - 31/10/2020

125€ for 2 days
Characteristics
Rasa / Raas (Naz - Sciaves / Natz - Schabs)
All the apartments of the Töllhof, which are very comfortable and bright, feature well equipped kitchen, double rooms, living room with cosy double sofa bed, private bathroom with shower and WC.
Are you looking for a cosy family-run place in the beautiful South-Tyrolean countryside close to the city of Brixen? Pension Peintnerhof is the place for you!
Situated in the village of Sciaves/Schabs, the Waldheim is a beautiful family-run hotel. It lies in a quiet and sunny position and is a central starting point for many hikes and excursions, both in summer and in winter.
At Huberhof you will experience a unique atmosphere of an historical farm. The list farmhouse is settled in a quiet and sunny position in the middle of Natz, surrounded by wide green spaces. It offers five modern and bright apartments.
Hotel Langhof is a 3-star family-run hotel in Naz. It is located in the village center and yet enjoys a quiet location and has a large sun terrace with a cafe. It is also an ideal starting point for hiking and sightseeing tours, to Brixen for example.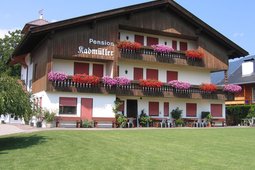 A hearty welcome in the Pension Radmüller in Natz/Schabs in South Tyrol! Feel at home here. Enjoy your holiday with your family or friends in a friendly and familiar atmosphere in the Pension Radmüller, which is situated on the apple-growing plateau of Natz/Schabs.